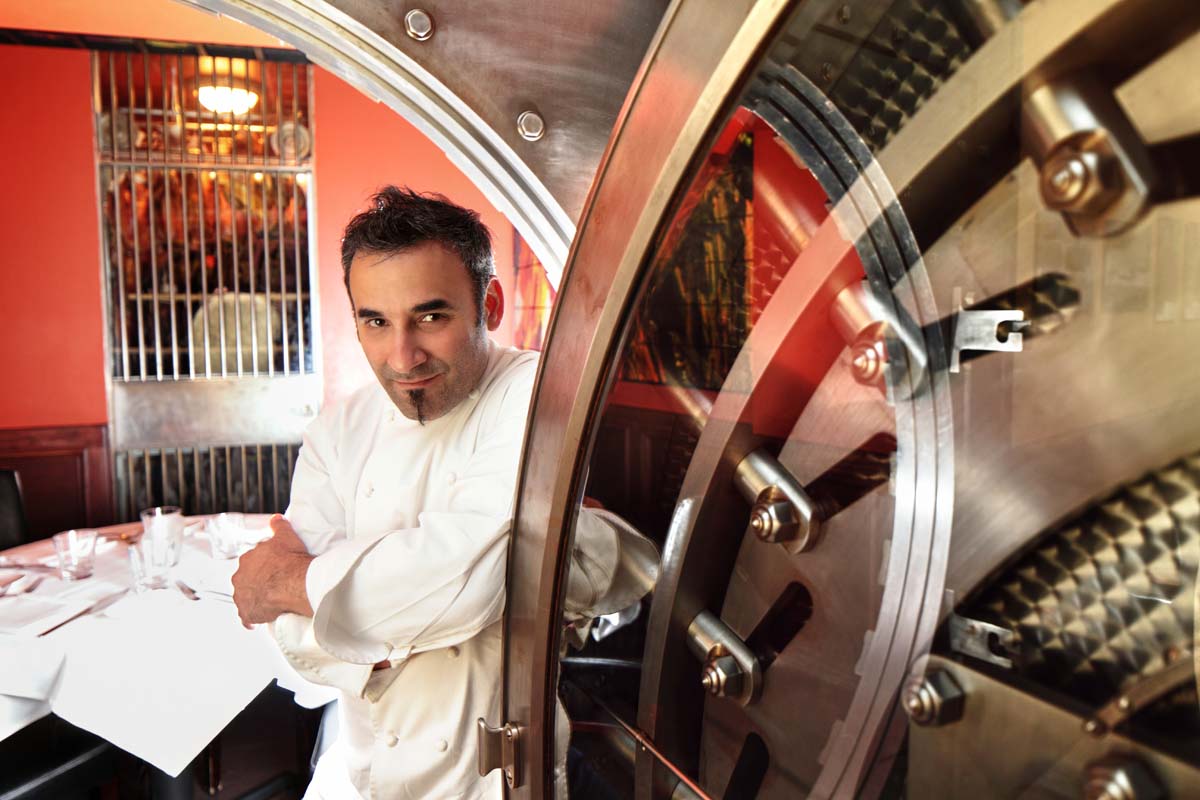 Chesapeake Crab with Tiny Asparagus and Bouillabaisse Gelée
Yield: 2 servings
Salt
Black Pepper, crushed
Ice
Bouillabaisse:
8 ounces fish bones
1 bulb of fennel, medium diced
1 bunch basil (stems only)
1 onion, medium diced
2 garlic cloves, halved
1 tomato, peeled
1 pinch saffron
4 tiger prawns
5 sheets gelatin
Water (to cover)
Tomato Dust:
Basil Oil:
1 bunch basil
½ cup olive oil
Crab:
2 lemons
1 cup sugar
12 spears baby asparagus
2 Tablespoons extra virgin olive oil
6 ounces crab meat
1 lemon, juiced
2 basil leaves
For the bouillabaisse gelée: Make a broth with the fish bones, onion, fennel, basil stems, garlic, tomato, saffron, and shrimp. Bring to a boil and add shrimp. After 2 minutes, remove shrimp, peel and set aside. Simmer the broth for an additional 25-30 minutes. Strain the stock through a fine mesh sieve, season, and add the gelatin sheets, stirring until the gelatin has dissolved. Chill until the stock is firm.
Tomato Dust: Dry the tomato skin in a 100ºF oven until crispy. Season with salt and pepper and grind to powder in a coffee grinder.
Basil Oil: Separate the basil leaves from their stems and reserve stems. Blanch the leaves in boiling water for 1 second, then shock in ice water. Drain, dry, and chop finely with a knife. Place in a blender with olive oil and one ice cube. Blend until smooth and strain through a fine sieve or chinois.
Crab: Remove the zest from the lemons with a peeler and julienne. In a small pot, combine zest, 2 cups water and ? cup sugar and bring to boil. Strain, and repeat two times, replacing water and sugar each time. Strain and chill.
Blanch the asparagus spears in salted boiling water until crisp/al dente, remove and shock in ice water. Remove from ice water promptly and drain.
Combine the crab, shrimp, lemon zest, olive oil, lemon juice and julienned basil leaves.
To Serve: Place the asparagus in the center of the plate. Place the crab mixture and shrimp on top. Place a spoonful the gelée over the crab and shrimp. Garnish with basil leaves. Drizzle the basil oil around plate and sprinkle with tomato dust.